Alaska fishing: Wrangell area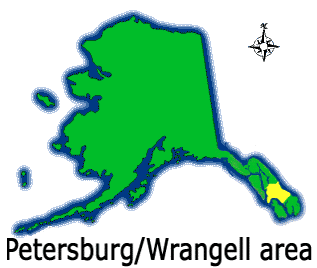 Species
Anglers who travel to Wrangell Island will be delighted to find an array of fishing on this second main stop of the Marine Highway. In saltwater all 5 species of Pacific salmon reach this area along with Pacific halibut, lingcod, Pacific cod, greenling, herring, Dolly Varden char and rockfish. In freshwater the salmons are accompanied by limited wild steelhead, Dolly Varden, and cutthroat trout; and in some lakes there are stockings of rainbows, brook trout, and even Arctic grayling. Wrangell sport fishing is full of opportunity and even the most discriminating angler will be pleased here.
Area Sponsor
If you are a Wrangell area provider of services or goods for sport fishermen, we invite you to advertise in this space. We want to provide both additional information about fishing and an opportunity for you to make people aware of what you do. We can take up to 125 words. We will work with you on the exact wording so that it provides information for those who read and helps you at the same time. The text can include your website address and other contact information. We would also like to display one of your best photos in this space -- we want to illustrate area fishing and at the same time show what you are doing. If you would like to sponsor this page, please contact contact Pam at 1.907-895-4919 (9 - 5) Alaska time. The cost is only $96 for one year.
Geography
Wrangell is located midway between Juneau and Ketchikan in southeast Alaska's Inland Passage. Nestled in the heart of the Tongass National Forest, the area is distinguished by thick forest that contrasts with glaciers and mountain peaks. The mainland coast and islands are incised with fjords. The island contains numerous creeks and lakes, and easy roadside fishing opportunities are supported by about 100 miles (160 km) of asphalt and gravel roads. The community of Wrangell is home to about 2,500 residents. Neighboring large islands include Etolin, Woronkofski, and Zarembo, and many charters originating from Wrangel will reach them
Best saltwater fishing times in the Wrangell area (ADF&G data)
Species

Availability

Peak

king salmon

year round

May and June

coho (silver) salmon

July through October

July through September

Pink salmon

June through August

July and August

Chum salmon

June through September

July

Dolly Varden

Char

April through November

May through July

halibut

February through December

June through September

sea-run cutthroat

April through October

July through September

ling cod

year round

June through September

rockfish

year round

April through June
Best freshwater fishing times in the Wrangell area (ADF&G data)
| | | |
| --- | --- | --- |
| Species | Availability | Peak |
| King salmon | July and August | end of July |
| sockeye (red) salmon | May through August | July |
| coho (silver) salmon | August through November | September and October |
| pink salmon | July and August | early August |
| chum salmon | July through September | August |
| Dolly Varden Char | January through December | April and May, August through October |
| steelhead trout | April through June | May |
| rainbow trout | year round | year round |
| cutthroat trout | year round | July and August |
| grayling | year round | year round |
We invite Wrangell area fishing services to apply to advertise in this space. Call Pam at 1.907.895-4919
Transportation
Wrangell is served by the Alaska Marine Highway, Alaska Airlines, and smaller aircraft. The state ferry operates regardless of weather and is the easiest way to bring your vehicle onto the island. Rental vehicles can also be leased in Wrangell but advance reservations are necessary.
Weather
Wrangell's weather is similar to many communities in the Pacific Northwest coastal area. Summertime will average in the high 60's F (15.5 C) to the mid 50's F (10 C) for lows. Winters are mild with some snow, and temperatures average between 20 and 40 F (-6.6 and 4.4 C). Visitors are always advised to layer dress and quality raingear is recommended due to a yearly average of around 80 inches (203 cm).
Amenities
Wrangell is among one of Alaska's newest travel destinations and is a hidden jewel among island towns. The community is rich in the heritage of the Tlingit Indian culture, and is also distinguished by Petroglyph Beach State Historic Park. Wrangell offers the angler a full complement of retail services in shopping and dining, and accommodations range from campsites to full service luxury lodges. Summer is the busiest time, and advance reservations will be needed.